Where to buy vinyl gloves?
Vinyl gloves are made of thin flexible PVC. This makes them pleasantly portable gloves that are used in many different industries to protect the hands against dirt and to work hygienically. These work gloves are designed for single use and are therefore also called disposable gloves or disposable gloves.
What are the properties of vinyl gloves?
Disposable vinyl gloves protect hands against dirt and ensure hygienic work. Compared to latex or nitrile disposable gloves, vinyl is the weakest material and therefore more vulnerable. Vinyl gloves are therefore most suitable for short handling and are relatively cheap compared to nitrile gloves and latex gloves.
The fit of a vinyl glove is slightly wider than nitrile and latex gloves. Vinyl gloves are generally somewhat looser at the wrist and fingertips and are not completely enclosing. Compared to latex, vinyl is also suitable for working with fats, oils and acids and does not cause a latex allergy.
Powdered or powder-free vinyl gloves
A powdered glove is generally easier to put on because the moisture from the hand is absorbed by the powder. Especially when working in hot conditions, this can make putting on and taking off easier.
In the food industry, powder-free gloves are always used to prevent the powder from coming into contact with food.
What are the

advantages of Vinyl gloves?
Relatively cheap compared to nitrile and latex gloves
Suitable for short work
Latex-free, so less sensitive to allergies
Suitable for working with oils and fats
Easier to put on due to the looser fit
What are the

downsides

of

Vinyl gloves?
Less strong than latex or nitrile gloves, making them more vulnerable to damage.
Less suitable for precise work due to the looser fit
Not suitable for care procedures where there is a risk of contact with bodily fluids
Not resistant to chemicals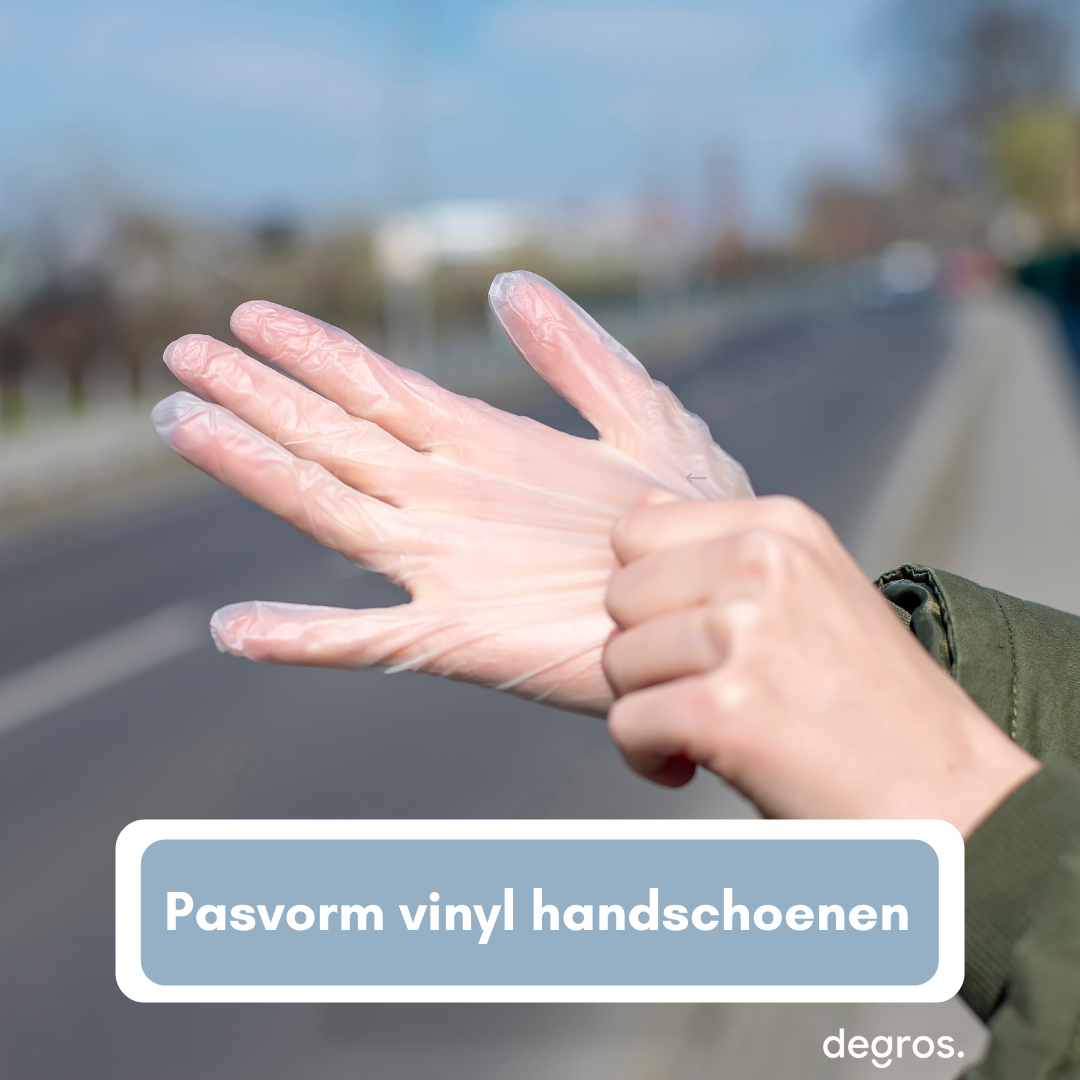 What do I pay in shipping costs and what are the delivery times?
Shipping costs €6.95 and is Free from €150.- Ordered before 22:00 is shipped the same day on working days* *If you have placed an order with items with a longer delivery time, we will not ship the order until it is complete.
What is the warranty period and what quality can I expect?
We supply only A-quality products. The legal warranty period is 6 months. If a product is not to your satisfaction, returning it is easy at Degros. We are affiliated with Webshop Keurmerk, which makes shopping at Degros safe and reliable.