Where to buy latex gloves?
Disposable latex gloves are often mistaken for plastic gloves, but are made of natural rubber, so they are rubber gloves. These gloves are therefore very flexible, offer excellent protection and have a good fit and feel. If you put on this glove, you will retain good feeling in your fingers and this variant is also very elastic and does not break easily.
Where are Latex gloves used?
Latex gloves are used for cleaning jobs, industrial use, in the food industry and in the medical sector. For medical use sterile latex gloves to be preferred i.v. transmission of bacteria and viruses.
Disposable gloves are available in several colours. These color types are often used in certain industries or for specific applications. At Degros you can buy white, blue and green latex gloves.
Powdered latex gloves
Powdered latex gloves are often used in industries that deal with hot conditions. Because the powder in the glove can absorb sweat and moisture, this glove is easier to put on. In addition, whether or not to use powdered gloves is a personal preference.
Powderless latex gloves
Powder-free latex gloves are often used during cleaning work. In the food industry, only unpowdered gloves should be used, as powder could end up in the food. These disposable gloves are also used in the medical sector, but nitrile gloves usually preferred.
What are the advantages of Latex gloves?
Excellent wearing comfort and tactile feel
Resistant to high temperatures
Good value for money
Very good protection against bacteria and viruses
What are the

downsides of Latex gloves?
Not suitable for people with latex allergies (then nitrile gloves offer a solution)
Cannot be used in combination with oil and grease
Tips for donning disposable gloves
Before putting on the gloves, remove any jewelry
Then wash your hands and dry them well
When putting on the gloves, make sure that the fingers and palms are well enclosed and that there is no air left at the fingertips
Finally, check that there are no tears or other defects on the gloves that may occur when you pull the gloves out of the packaging.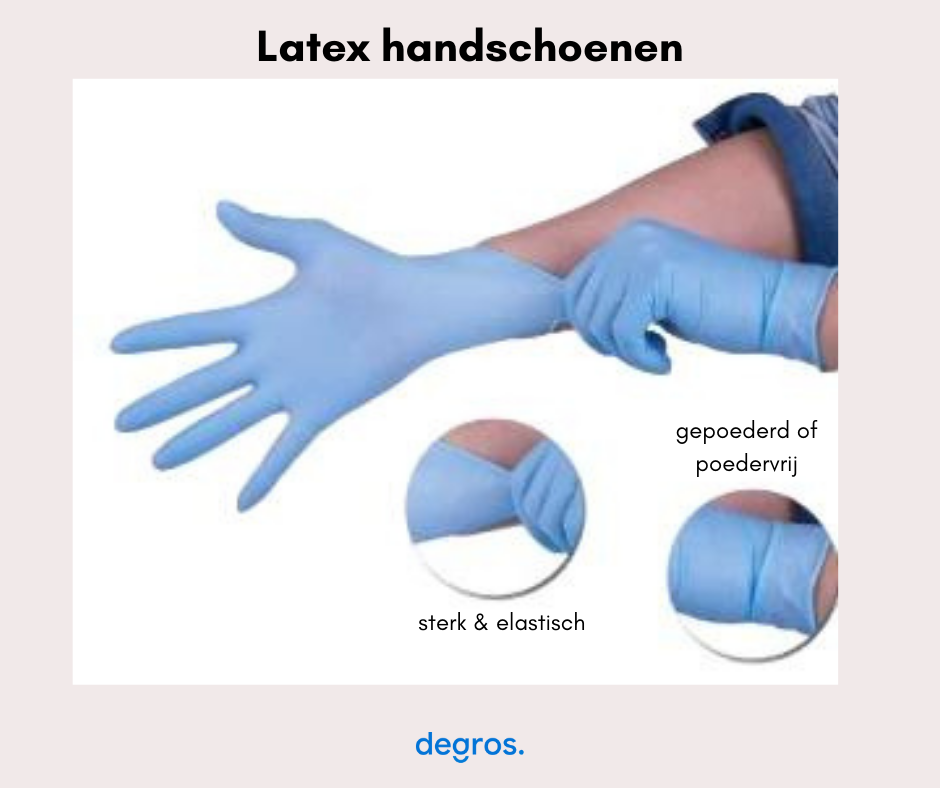 What do I pay in shipping costs and what are the delivery times?
Shipping costs €6.95 and is Free from €150.- Ordered before 22:00 is shipped the same day on working days* *If you have placed an order with items with a longer delivery time, we will not ship the order until it is complete.
What is the warranty period and what quality can I expect?
We supply only A-quality products. The legal warranty period is 6 months. If a product is not to your satisfaction, returning it is easy at Degros. We are affiliated with Webshop Keurmerk, which makes shopping at Degros safe and reliable.